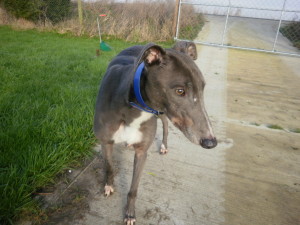 AL  Dob 01/08/10   HOMED
Al arrived at the kennels with the unusual name of " Alien ". When we put him in his kennel he just stood there wide eyed and bewildered as if he was from another planet. After a few days he started coming out of his shell and has turned into a friendly lad always happy to see you. We decided that " Alien " was not the most endearing name and shortened it to Al. Al is a handsome blue boy, small in stature and friendly around the other dogs at the sanctuary. He would make a smashing addition to a calm, quiet family where he can settle at his own pace. Al is a super boy who longs for a home of his own, are you the one to make this boys dreams come true ?
HOMED 20 September 2016
It hasn't taken Al (now Ben) long to claim his bed !!